A Full Service Critical Access Hospital in beautiful Waimea, Kauai, Hawaii
Kauai Veterans Memorial Hospital – opened in 1957, the Kauai Veterans Memorial Hospital was named in honor of the Korean War Veterans.  Today it is a full service emergency department, general surgery, specialty surgery of ophthalmology, intensive care, family and internal medicine, obstetrics and gynecology and pediatric services.
KVMH provides a full range of healthcare services including:
24-Hour Emergency Care, staffed with a Board Certified Emergency Physician
Full-time Radiologist
Radiology

CT Scan
Ultrasound
Mammography
Limb MRI

General/Specialty Surgery
Outpatient Surgery
ICU/CCU
Medical Surgical/Pediatric Care
Obstetrical/Gynecological Services
Skilled Nursing Care
Intermediate Nursing Care
Pharmacy
Laboratory Services
Physical Therapy
Occupational Therapy
Respiratory Therapy
Social Services
Additional Medical Services
Right next door, the Kawaiola Medical Office Building houses: Dialysis Center, Ho'ola Lahui Hawaii (Federally Qualified Health Clinic), outpatient Clinical Labs service, the hospital gift shop, and our Waimea hospital outpatient clinic.
Hospital Physicians
When admitted to Kauai Veterans Memorial Hospital, a patient's care is coordinated by a team of 'hospitalist' physicians. These physicians are on-site 24 x 7 closely monitoring any changes in patient conditions and adjusting care as needed. They work closely with the patient's primary care physician and specialists. Benefits to patients and their families include:
First Priority: The hospital patients are the hospitalist physicians first and only priority.
On Site Care: Hospitalist physicians are on-site 24×7 to respond quickly to any changes in a patient's condition.
Shorter Hospital Stays: Studies have shown that patients generally have shorter stays when their care is coordinated by a hospitalist physician.
Easy Access: With the hospitalist physician on-site, a patient and their family have more ready access to the physician ensuring their questions are answered promptly.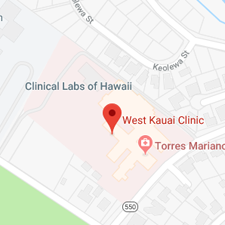 4643A Waimea Canyon Dr.
Waimea, HI 96796
(808) 338-9431